Social media fan reaction to Joe Rodon's Premier League debut has been extremely mixed to put it mildly. Whilst the former Swansea City boy undoubtedly was competent in many of his involvements during today's game against Chelsea, there were clearly several areas of concern. They were referenced in a kindly manner by José Mourinho after the game.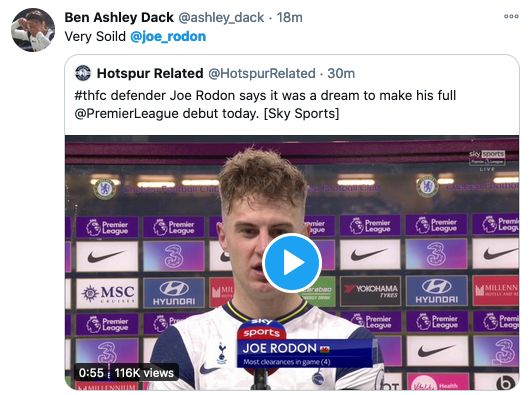 The big question I was left pondering after this game was 'just how bad was Davinson Sanchez, that Rodon got the nod?' I just do not see it. Not at all. I take a view that the he bottom line under José Mourinho is that mistakes are reduced to their bare minimum. In which case, what is Joe doing in Tottenham's starting XI in such an important match?
Are these fans being overly harsh? Ladies and gentlemen, I hate to be the bearer of awkward news, but this Tottenham side are currently top of the Premier League and most of us would rather like to see us stay there!