It has been a tough 18 months for Dele Alli.
The midfielder has gone from being arguably the top young talent in Europe, to the bench at Tottenham Hotspur and was this week left out of the England squad for the second successive occasion.
The Mirror claims that the 23-year-old has made some drastic lifestyle decisions in an attempt to get his career back on track.
John Cross reports that Dele has cut his commercial activities, with his only such appearance this season requested by Spurs to promote Hugo Boss.
His lower media profile will pain Cross and his red top buddies, with the Arsenal loving-scribe admirably admitting that easy target Dele, "…has not been pictured out on the town once this season, not even for dinner."
Injuries have been the main cause of Dele's regression, not the occasional beer with his Nandos. Four lay-offs caused by the same hamstring in the space of 18 months is bound to shatter a player's confidence, and The Mirror adds that Dele has taken up yoga and hired his own personal nutritionist to help try to put his muscle problems behind him.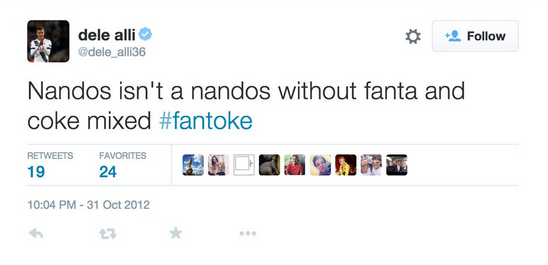 Dele's new diet is high in protein and water, and low on sugar, and most likely excludes #fantokes.
Let's hope this leads to a diet of goals and assists on the pitch, because we need 2015-2017 Dele back, right now.