Yet another classic tale from the Master Angler's "The One That Got Away" file for Tottenham fans. According to Sport via The Daily Mail Daniel Levy managed to fail to sign another star that could have made our first-team squad a better outfit that it is.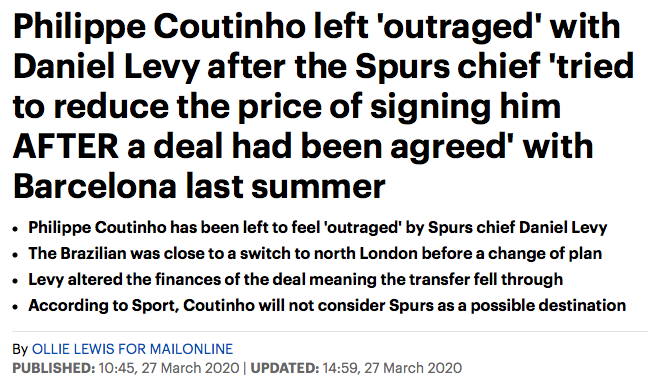 We've been through this is so many times, have we not? Or do Spurs fans simply obsess more than supporters of other clubs?
The sketch suggested by Sport is that Giovanni Lo Celso's deal was looking touch and go, and Lisbon's asking price for Bruno Fernandes was prohibitive.
The claim made is that Philippe Coutinho was left "outraged" by the fact that Spurs' supremo had all but shaken hands and the financial goalposts were suddenly moved.
In fairness to Mr. Levy, "all but" doesn't count for nichts.
That said, how much was saved by NOT signing the boy? And what advantage was achieved by failing to get that deal over the line for the team? I guess we will never know, eh?
At least we #DidntDoALeeds.