An interesting twist is on the cards here for Spurs, and one we must hope proves to materialize into something special – like aiding Jose Mourinho to get himself the midfield general he truly needs.
Kyle Walker-Peters' footballing career has been in limbo ever since he was loaned out to Southampton.
Tottenham's pursuit of Pierre-Emile Højbjerg makes a huge amount of sense for José Mourinho in his pursuit of stabilizing the current Spurs squad. Duncan Castles believed that there was a 'cash + player' offer made.
"Southampton see him as a player they have to sell in this market," Castles said on the Transfer Window podcast. "They, I'm told, have three offers so far for the player, none of them are satisfactory, one extremely low at a financial level, and they have an offer of cash plus players in exchange, which I understand has come from Tottenham Hotspur.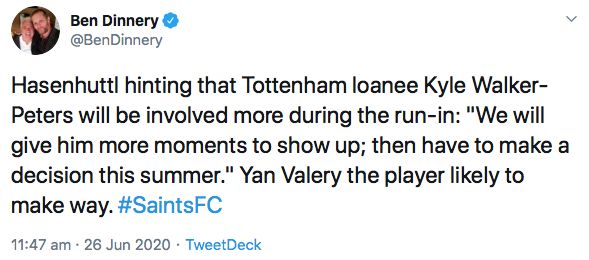 Ben Dinery who scribes for The Athletic amongst many, reveals that the Saints boss has not, repeat not, binned Walker-Peters, and so life is breathed into the idea of Spurs landing a player who could do us a whole lotta good.
Let's hope KWP doesn't screw up!
MORE #BLM Just went full on Anti-Semitic, that's gotta sting for Levy