A half past four kick off will add to this North London Derby's rich vibe, which comes on the back of several days of weeping, wailing and threats of varying degree.
Spurs go into tomorrow's game @13/8 with Arsenal @8/5, the draw is @12/5, which makes our visitors very narrow favourites.
Assessing form can be a fraught business under Project Restart, as the games certainly feel a long way from business as usual. There's a great piece in today's The Athletic that I'd commend to you read, the key takeaway points are as follows.
Home advantage unaffected
Fewer first half goals
Fewer goals per game
Fewer second half goals
Fewer chances being created
Lower quality chances
Improved free-kick conversions
Spurs have won 55% of their last 20 home league games and Arsenal have lost 35% of their last 20 away league games, but what does that mean in plain English? As just the one point separates us in league at present, not very much.
Here's an at-a-glance breakdown of our last 10 games against the Arsenal. It doesn't make for particularly pretty reading.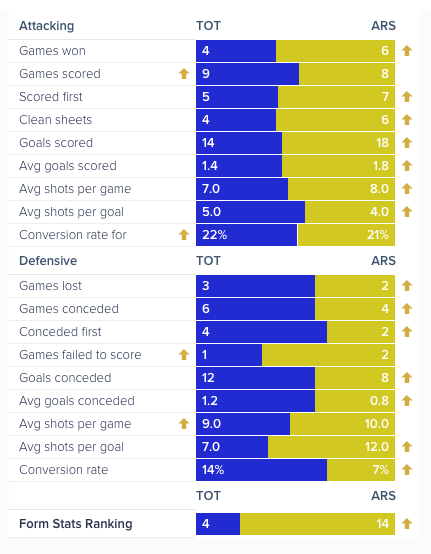 Of the 11 league games Spurs won at home, they scored first 9 times. Of the 7 away games Arsenal lost, they conceded first 6 times. However, if one factors in the scarcity of first half goals, those stats count for less.
Bottom line is, that Tottenham need to buck their ideas up and play as fluidly as possible from the off; the longer Mourinho's boys take to grow into the game, the greater the likelihood the game will deteriorate as we've had to bare witness to recently. It's in indication of how bad things are at the moment, that Harry Kane is @4/1 for first goalscorer.
If Kane is capable of playing further up the field, then now is the time to move him accordingly. If he isn't, then Spurs have got a problem tomorrow.