Spurs' continued participation in the Champions League requires a win this evening, although one has to ask, to what purpose? Sure, the money as important to ENIC, but we're not of the required standard right for any top end competition right now, as our domestic form so painfully illustrates.
Danger man Crvena Zvezda's Marko Marin created six chances in their 5-0 defeat against Spurs on MD3 – no player has created more in the UEFA Champions League this season (13, level with Toni Kroos).
Level bevel Spurs have both scored and conceded nine goals in the UEFA Champions League so far this season – in none of the previous 27 seasons had this ever occurred after three games, although FC Red Bull Salzburg have also done so this season (11 for, 9 against).
Machine gun fire There have been a total of 104 attempts on goal in Crvena Zvezda's opening three UEFA Champions League games this season (40 for and 64 faced) – FC Bayern München (102) are the only other side to see over 100 shots in their games in the competition this campaign.
Good tradition Including qualifiers, Crvena Zvezda have only lost two of their last 21 home matches in European competition (W11 D8 L2), though one of those was against English side Arsenal in an October 2017 meeting in the UEFA Europa League.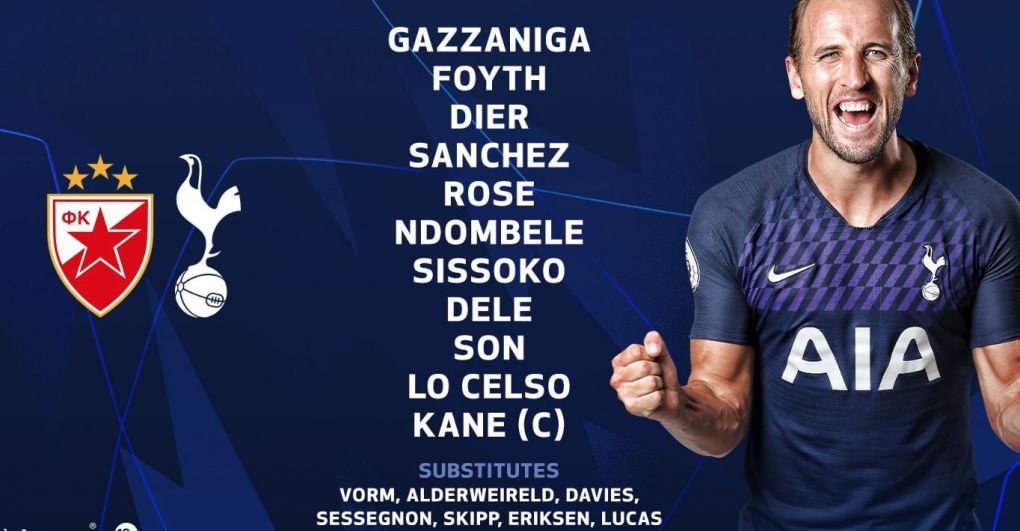 5's the magic number Spurs' last two UEFA Champions League matches have been by a five-goal margin, losing 7-2 to Bayern Munich before winning 5-0 against Crvena Zvezda. They are only the second team to have a 5+ goal defeat and victory in the group stage of a UEFA Champions League campaign, after Rosenborg in the 2000-01 season.
First time for everything Crvena Zvezda have never lost a home match in the European Cup/UEFA Champions League against an English opponent (W2 D2 L0), winning 2-0 last season against Liverpool.