Hugo Lloris, Eric Dier and Toby Alderweireld have wasted no time in quashing the recent comments suggesting discord at Hotspur Way and specifically the training methods of José Mourinho.
The allegations came via The Sun newspaper and as I wrote on this blog on the subject, the remarks seemed to me at least, to play to those fan who were still missing Pochettino and/or were still wary of Mourinho.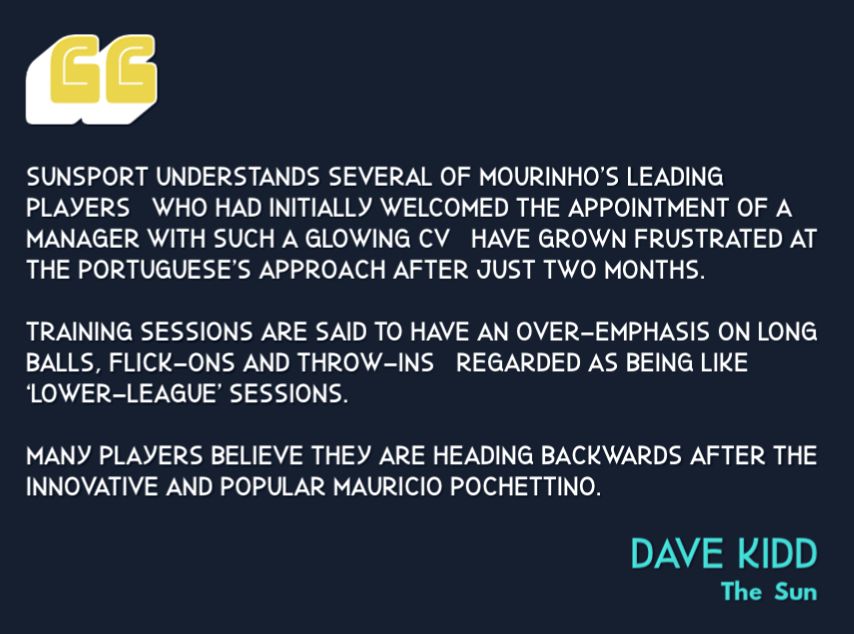 As "innovative and popular" as Mauricio Pochettino may (or may not have been) the Argentine was sacked for efforts – not overthrown in a military coup, you understand, but removed from post as Spurs were heading into a relegation scrap.
Whereas José was brought in on an eye watering deal because he is a proven winner. A man whose CV is the same as money.*
Dier was asked about the slurs and gave a straight reply to the BBC.
"Any club, when results aren't going well, is not a happy atmosphere. But it definitely isn't a negative atmosphere. Who is saying that? Maybe you lads know – I don't. Personally I have enjoyed it. I enjoy doing new things."
Hugo Lloris echoed Dier's words.
"The atmosphere is great, we can feel all the players involved and ready to fight for the club, the new manager and his staff. We cannot control everything you say outside but I can confirm the atmosphere is very positive."
Toby was also quick to dispel the trash talk via The Guardian.
"I can say with my hand on my heart there's no negativity. We have an unbelievable group. I think we have such nice guys. Maybe we are too nice, you know? That's maybe the problem! But no, everyone is very happy with the manager, the way we train."
OPINION
It seems unlikely that these players were coerced into fibbing, as part of some club conspiracy. What seems more likely is that a disgruntled party has perhaps decided to "get the first punch in" before their own situation comes under the glare of public scrutiny.
*This may not be entirely true