After falling to Manchester United last weekend, Tottenham Hotspur needed to get back on the horse and secure a win on the road against Brighton & Hove Albion. 
The north London club couldn't afford to drop any points and picked up a 2-0 victory at American Express Community Stadium. Cristian Romero picked up the first goal for Spurs. The 23-year-old played 90 minutes while winning three of seven ground duels and two clearances. 
After the match, manager Antion Conte commented on the Argentine defender's performance against The Seagulls. 
"Cristian Romero is a good player, and he has to be focused in every moment of the game. If he is focused in every moment of the game, with the ball, without the ball, he is really good player with a lot of space for improvement. He played a really good game, like the other team-mates. For sure we are talking about a player, a young player, with a lot of space for improvement," Conte said, per Football.London.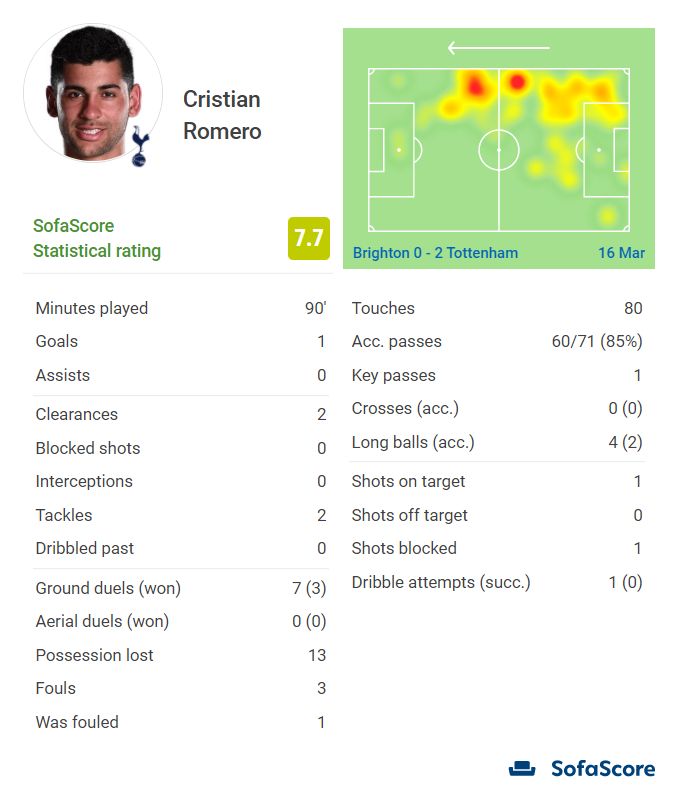 "He has to have the desire, the will, to continue to improve, and to ask himself much more. Because he has the possibility to become a top defender, but it depends on him. And on the manager to help him, sometimes in a good way, sometimes in a bad way. But the most important thing is he has to improve."
Romero was brought in this past summer to be a key pillar on the Tottenham backline. With Spurs heading down the stretch in these next handful of matches to end the season, Romero will be counted on to help his squad finish in the top-four. 
The next upcoming match for the north London club will be against West Ham United, a marquee matchup as both clubs are fighting for the last spot in the top-four.