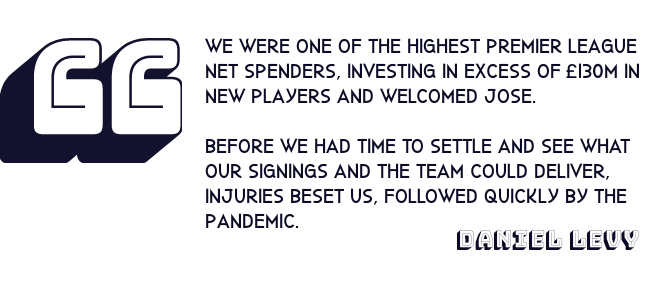 In isolation, Daniel Levy's comments are technically accurate and effectively true, however in context (which normal people apply liberally to all situations) the remarks specifically about transfers, are risible at best.
To provide that context, below is the business activity of Spurs over the last 5 years, which covers us for the period that Mauricio Pochettino was in the hot seat. And so when looking at cumulative spend, we gain a far more accurate picture of how a business operates.
Now what is rather helpful here, is that this graphic was from an article that made a compelling case for Liverpool being the divisions' overachievers.
The truth is always nearby to a deceit and if we look at Levy's statement he did sanction a number of purchases in the last window, but even then, was effective due diligence undertaken?
Ryan Sessegnon has struggled to make even 6 Premier League appearances. Tanguy Ndombele is "injured" again at time of writing. Jack Clarke is killing time unsuccessfully at Queens Park Rangers.
After some truly appalling negligence in respect of transfers over a concerted period of time, for a CEO to have the front to pass off one atypical and unsuccessful splurge as an investment of merit would be hilarious if I was describing another club.
Take a look at Liverpool, if you're struggling. What this table tells you, in the context of being English and European Champions, is that they are well run club. No ifs, buts or yeah buts. English and European Champions by focusing entirely on their football team, and allowing nothing to obscure that focus.
Over to you, Daniel Levy.