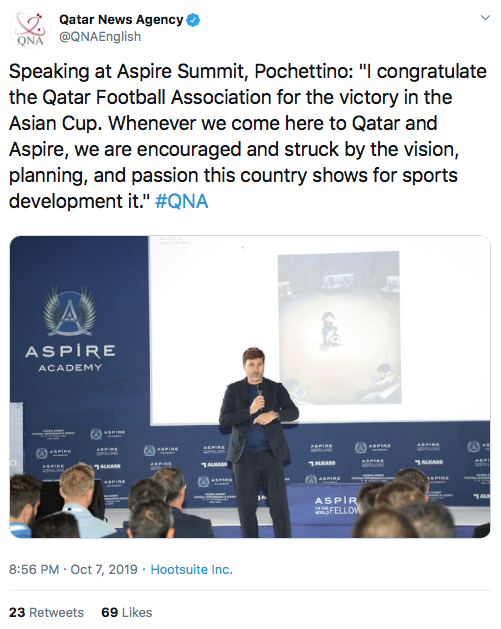 Mauricio Pochettino appears to have contracted a bad dose of the infamous THFC public relations touch.
Leaving London's angsts behind and enjoying a spot of sunshine in foreign climes was probably just what the doctor ordered, however, attending the Aspire Academy junket in Qatar appears to be a huge mistake.





Pochettino's gushing enthusiasm somewhat flies in the face of reality. German broadcaster WDR revealed endless abominations surrounding football stadia builds in Qatar.
Criticisms over several years now have emanated from unions and human rights groups, including Amnesty International. The concerns include numerous confirmed deaths of workers and the concerns are legitimate.
If you use Twitter, then it may be of use, to search for the hashtag #BoycottQatar, if you are looking for an insight into the numerous charges against the Qataris and other associates.
PSG chairman Nasser Al-Khelaifi was accused earlier this year of "active corruption". The chief executive of beIN Sports, Yousef al-Obaidly, was also up on a charge of "passive corruption" (no laughing at the back please, this is an actual thing).
Pochettino seriously needs to give his head a wobble. This is not good. This is the opposite of good.