One of the more obsequious fan tropes to have emerged since the spread of the Internet, is the hysterical 'GET BEHIND THE TEAM!!!' nonsense.
This is essentially screamy virtue signalling by sad lonely people, who want to impress upon total strangers, just how brilliant a fan they are.
Sure, going to games to shout abuse at your own team has always struck me as daft, but online, supporters ought to be able to discuss whatever negatives they want, without being heckled by zealots.
Indeeed, anyone who believes Dele Alli will be less effective against Watford because some random on Twitter has told him to shove an oversized garden gnome up his bottom – may not quite understand how the human mind works.
But the question I'm posing here, is how should the dialogue between the players and the manager play out? What's the best practice there?
Interesting quotes via The Sun this morning, which will divide opinion amongst the fan base (but what the hell doesn't, these days?).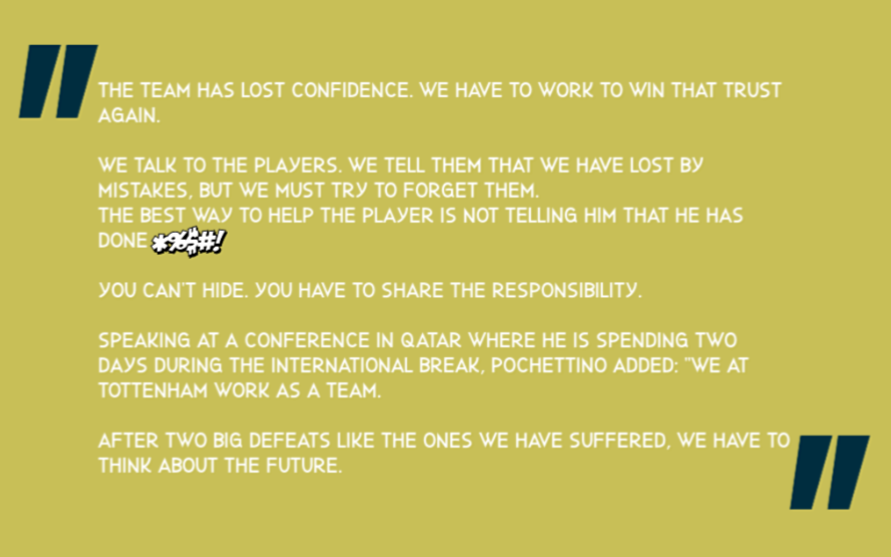 This reveals to me a weakness that I'd hitherto suspected but had yet to be confirmed.
We live in an age where things have become so touchy-feely, that people are actively encouraged to 'identify' as the gender of their own choosing.
This politically correct lunacy has now reached the Tottenham Hotspur dressing room, where it is deemed 'unhelpful' to bawl a footballer out for being useless.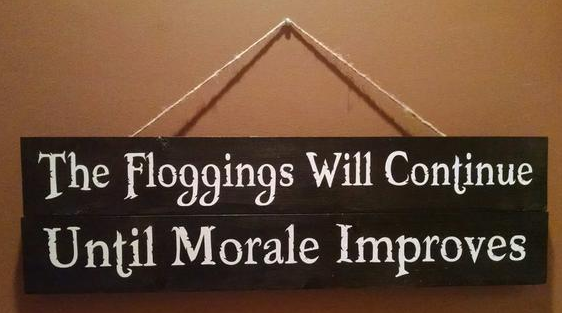 I'd ask you to consider this; what does Pochettino do? If he cares (we know he cares), then he must be absolutely furious with players that waste his time. If he doesn't yell at the offenders, is he going home and kicking the cat?
It's not normal, it's not healthy for humans to bottle up emotions. For a football manager it's completely disastrous. A coach's remit is to fire up the team, not act like a financial advisor talking to a vicar.
These quotes from Poch tell us far too much about what's wrong in the Spurs squad.
Is this holistic approach another stunning example of Tottenham 'doing things differently'?
There's never been a successful football manager in the history of the game that gave a damn about their players' feelings.
If Pochettino wants dignity, then he's going the wrong about it. There's no dignity in losing.