There was time on match-days when you could spot Graham Roberts signing photos, on a trellis table on the High Road with Micky Hazard. They were positioned just down the way enough not to get moved on for fly-pitching by stewards, or the police.
These days, both former players both work for the club in an ambassadorial capacity.
As a result, both men are now vehement supporters of every aspect of the ENIC regime, and you will struggle see any dissent getting past them on social media. Lots of 'get behind the team' type bravado.
The last few months have seen Spurs go from being and entertaining, and dare one say, a 'competitive side' to one clearly in paralysis.
The heat beneath the rumours that Mauricio Pochettino might be replaced has felt as if it was being gently turned up a notch after virtually every game.
In the last 48 hours, bookmakers significantly shortened the price of Poch being sacked, sparking fresh speculation.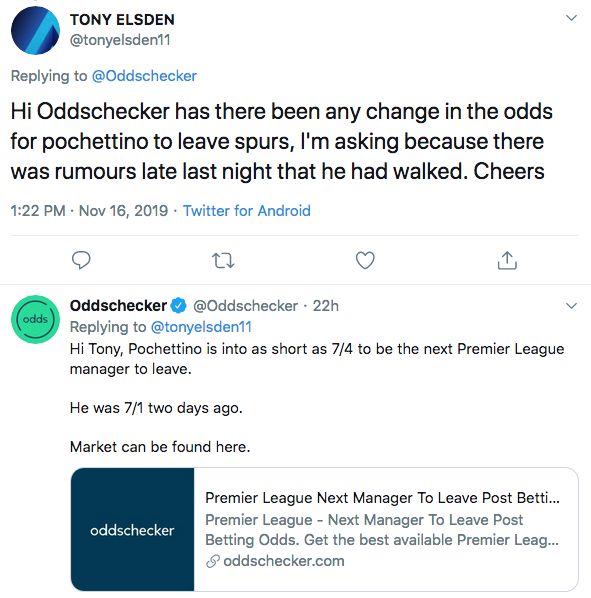 A price moving from @7/1 to @7/4 sounds alarming, but this is a very small market and one that might be influenced by as little as £100 being wagered.
Mr Roberts angrily waded into the debate (as he is wont) and refuted both talk of Poch leaving his post, or talk of the ever looming Jose Mourinho replacing the Argentine as the Tottenham gaffer.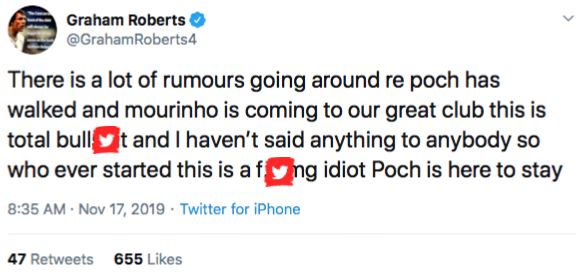 Opinion: "Poch is here to stay" won't chime well with those fans who are frankly a bit tired of watching the stale football, and hearing the same press conferences week in week out, as Spurs ghost about in mid table mediocrity.