Perspective, like context, can often be thin on the ground in football. And by perspective, I am not inviting guano posting from Levyologists who can't believe that nobody remembers the 90s. I remember the 90s. We won more trophies in one decade than we have so far in two.
Poch is a coach that wears his heart on his sleeve and his demeanour in pressers reflects not punch ups behind closed doors, but levels of frustration that are making his life a misery, because he cares. That's right, he actually cares.
Yes, the gaffer has been warmed by overtures from Real Madrid last season, and it was also his ambition to lead his side to European Cup final.
Maurico's problems are twofold. One, that too many of his go-to players are more interested in dancing a jig with the club over contracts, than they are about kicking a ball.
Toby Alderweireld is still pondering his options, as re Jan Vertonghen and Christian Eriksen.
Danny Rose and Kyle Walker-Peters weren't supposed to be Spurs starting XI wing backs for the 2019/20 season. And to top it all, Dele Alli's drunkenness whilst on holiday was then crowned by the man child overdoing it in training, injuring himself, and missing our first 3 games.
Two, his new signings have also been a non-event. Tanguy NDombele managed to pick up a thigh strain after just 2 games. Lo Celso arrived with a backstory featuring some 'didn't train, went on holiday' business.
I can't even remember what is supposedly wrong with Ryan Sessegnon.
Poch is the man that broke the bank at Monet Carlo, but when he got home, his suitcase wasn't full of cash any more. Just torn up Chinese phone books.
So right now, the squad is absolutely unsettled. We are nowhere near the levels we ought to be at.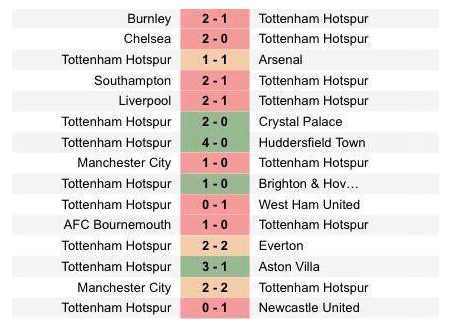 Here's that form guide, taking us back to February. It's dreadful viewing. However, right now, Poch has no magic wand to wave, here.
A source at the club tells the Harry Hotspur blog that Poch hasn't lost the dressing room, he's just terribly saddened by the whole mess.