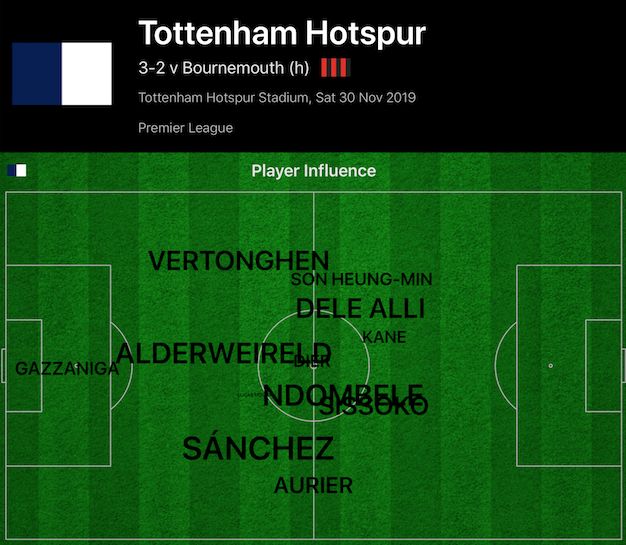 Right away we see one of the most balanced influence graphics since the Harry Hotspur blog began featuring them. This is very pleasing to see, to put it mildly.
Perhaps a certain Mr Harry Redknapp might like to reconsider his earlier remarks, or is 3 games in now long enough for any old coach to have had an effect on his players?
GAZZA urgently needs to work on his distribution. Gave the ball to a Tottenham player 18 times, gave it away 14 times. This is chaotic at best. Hopefully Jose brought a goalkeeping coach with him.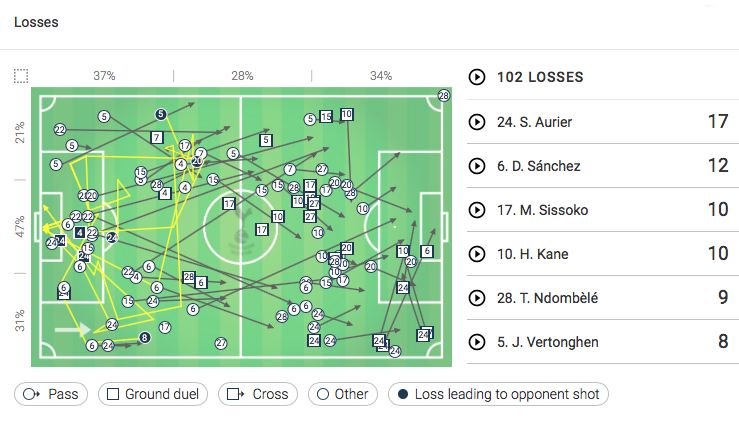 AURIER created 2 chances, made just one back pass and was full of hustle and bustle, recovering the ball 5 times. The Ivorian took 3 throw ins and only fluffed one. How far we have come, eh?
SÁNCHEZ as per the graphic above, Sanchez and Aurier both gave the ball away far to often.
Not far enough, it would appear. Attempted 6 crosses and only one found a Spurs player. Not good enough, and he will know it. Must concentrate more.
VERTS had a decent pass completion accuracy at 86%. An aggressive role from the Belgian that saw him make attempt 7 and succeed at making 4 passes in the final third. Jan also recovered the ball smartly, on 7 occasions.
TOBY's passing accuracy was solid at 89%, as per Vertonghen, there was a bit of bite going on, with 5/5 successful passes in the attacking third. Jan created one chance and recovered the ball on 3 occasions.
DIER's passing accuracy was substandard at 74.3% and given his position, he didn't see enough of the ball either. This was a game Dier definitely deserved to be hooked off early from.
SISSOKO scored and that's the headline. Nothing else to see here. Great to feel the love for the old warhorse.
TANGUY looks to me as if Jose is still coming to terms with how to fully exploit this player. 15/19 successful passes in the attacking half, plus the shot on goal and 6 recoveries.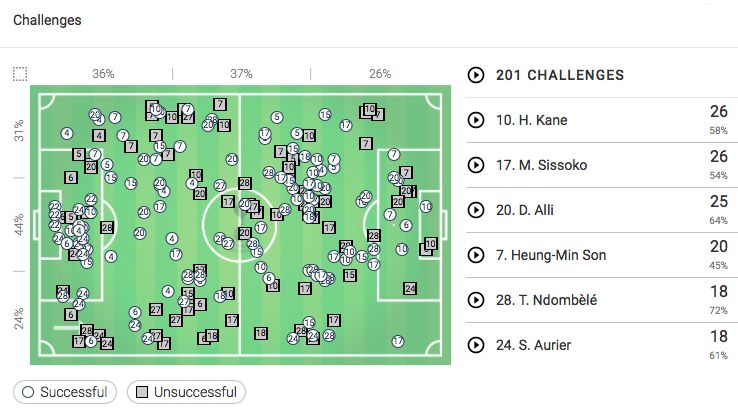 DELE is reborn. For an attacking player, these successful challenge numbers are superb. Simply superb. It makes a huge difference to the team when a player who scores twice – actually did more than 'just' that.
The way Alli is playing for Mourinho raises massive concerns about Mauricio Pochettino's coaching abilities.
It is beginning to look as if the Argentine would essentially put up with anything to keep the peace. Jose Mourinho hasn't mentioned the kid's age once. MOTM without hesitation.
SONNY take a bow! A passing accuracy of 92.6% is exceptional for an attacking player. 12 out of 13 good passes in the attacking third is also spot on. 4 chances created (3 of which were big) completes our tale.
KANE is playing a more nuanced game under Jose, which is coded language for him being a more useful player generally. Harry wants goals and I can see a potential issue if more don't start coming his way…
My thanks to StatZone(£)