Mauricio Pochettino appears to be wasting no time in bouncing back, with Manchester United and even Arsenal being linked as possible destinations for Tottenham Hotspur's most recently dismissed manager.
Only a few weeks have passed, yet it's clear from the Argentine's deeds and words that Mauricio doesn't feel that he's acting with an indecent haste.
It was reported that Poch refused to resign from his post at Spurs, when Daniel Levy offered him a more dignified way out.
Jose Mourinho was announced as the new man within 24 hours of Poch getting the boot.
Fair conclusions that can be drawn here are that Mauricio's departure was on the cards for considerable period of time, one doesn't appoint someone of the calibre of Jose Mourinho on the hoof.
Spurs were in a state of paralysis all season, and so either negotiations for a successor were protracted, or Pochettino was hanging on for dear life.
Given the 47-year-old's extremely brief period of wound licking, my money is on Poch feeling that he has a point to prove.
Which is an ambitious outlook, considering he failed to win anything at Tottenham, despite having been given five and a half years to do so.
The concerns with Pochettino are painfully obvious, his departure from Espanyol was pretty much identical to his end of days at Spurs.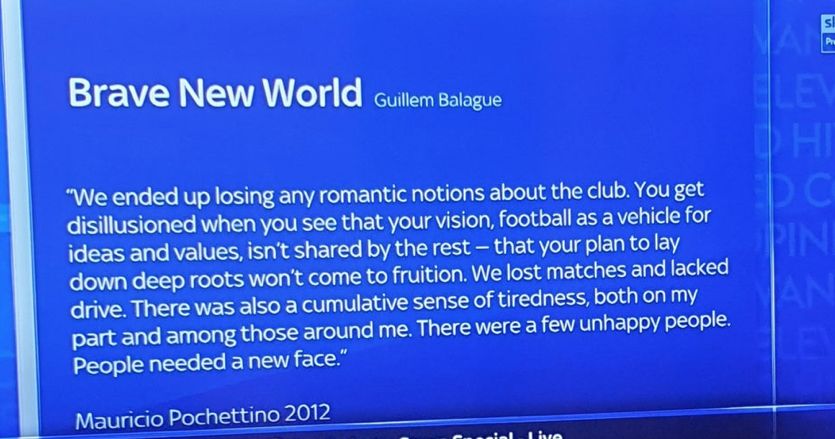 Which begs the question, is this a football manager that boasts a 'willingness to learn' amongst his skill sets?
The problem that Man United and Arsenal both have, is that neither of them have the time or patience for long winded tales of philosophy or rebuilding.
Normal, big clubs, demand to be on the right side of the key metric for professional sports – which is winning.
United has already tried the honest builder type, in David Moyes. It didn't work.
Arsenal are learning the hard way that they too need to employ a man who knows how to manage a big club.
Last week, it was Moyes that became the favourite to replace Marco Silva at Everton.
And so, we may have inadvertently discovered where Mauricio Pochettino's place is, in the Premier League food chain.
If I were the owner of a genuinely big club, Mauricio wouldn't be on my shortlist. There's nothing there to even suggest he knows how to win.
Indeed, for a manager so frequently lauded as being 'magic', it's been quite startling how perked up a number of our players have become since his departure.
Nobody wishes Pochettino ill, but it might be an idea if has a convincing answer for the following interview question, at least:
"What will you do to prevent a repeat of the despair that surrounded your final months and weeks at both Espanyol and Tottenham?"
Right now, I don't believe he's actually considered it.