Tottenham's midfield dynamo Moussa Sissoko is sticking to the corporate line, and telling people that a top four finish is still possible for the Lilywhites – this season.
Gerry Cox for The Telegraph does a good job here, and by luck or design shows us the dreadful gulf between Moussa's conservatively optimistic words and the stone-cold reality of our situation.
As Cox alludes, there is close to zero evidence to support even the meekest claims of revival of fortunes at Tottenham Hotspur.
The rot set in last season, not this, and Mauricio Pochettino's form has plumbed depths that few fans would have thought he was capable of dragging us to.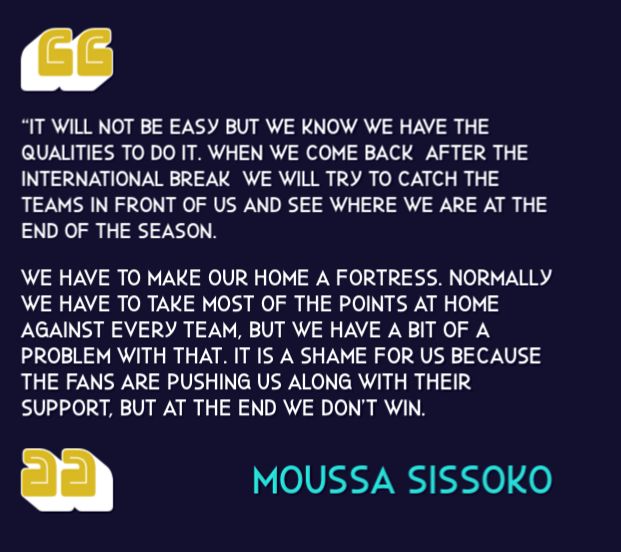 All the Spurs players speaking publicly have been talking about the innate quality within the squad being there in order to save the situation, yet we're all still waiting.
This unwittingly points the finger back to the manager. Whilst there have been gripes about Christian Eriksen's commitment, one hapless Dane hasn't brought this entire mess upon our heads.
The assertion that we suddenly have squad full of defunct players doesn't stand up to much scrutiny.
Absolutely, Spurs needed to spend moderately each and every window over the past 5 seasons, in order to stave off the staleness that now endures; but the real problem is that we have a manager that doesn't know what to do with his current inventory. An inventory that publicly he has repeatedly championed.
Pochettino's seeming unwillingness to find a starting XI and stick with it cannot have helped anyone. For proof, I'll point you at the clubs currently above us in the table who have inferior resources.
Spurs sunk to 14th this weekend, and after the international break we travel across town to play West Ham United. What joy.