A tremendous close to a World Cup, and my thoughts this morning are with Kylian Mbappé who scored a hat trick in the final, only to end up not just on the losing side, but with Emmanuel Macron of all people doing an unconvincing and horribly ill-conceived 'let me console you, brother' number on him. Oh, that the player had chinned him, live on TV.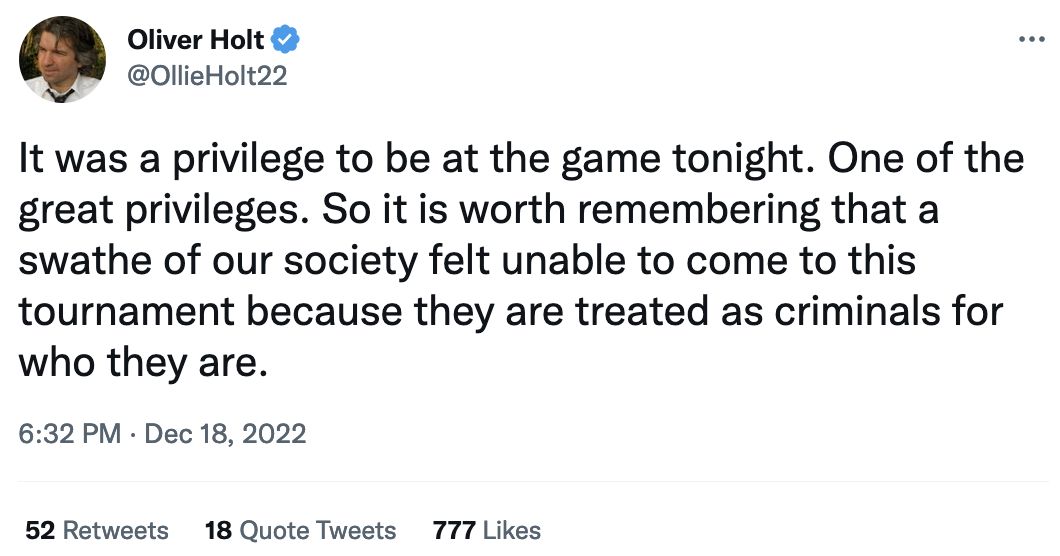 It was a packed field, but the Daily Mail's Oliver Holt grabbed the Virtue-signalling Wanker Award with both hands.
Again, let's look at the data. The Office For National Statistics tells us that an estimated 3.1% of the UK population aged 16 years and over identified as lesbian, gay, or bisexual (LGB) in 2020. The number is steadily rising, but the reality is that you've pretty much as much chance of bumping into someone whose sexual orientation is not heterosexual as you have of bumping into a person of colour.
swathe /sweɪð/noun noun: swathe; plural noun: swathes; noun: swath; plural noun: swaths a broad strip or area of something. "vast swathes of the countryside"
…continue reading👇