Tottenham have never had a better start to a season in my lifetime. No matter what your feelings might be, the old adage about the table not lying always wins. Mourinho has put Manchester United and Manchester City to the sword and even after drawing at Stamford Bridge, the Lilywhites remain top of the Premier League pops.
Former Manchester United ace Roy Keane always makes for an entertaining contributor to football analysis. The man from Cork is rarely in a light-hearted mood, and occasionally can be spotted losing all patience with certain players. If I was pushed to sum him up in one word, it would be 'unforgiving'.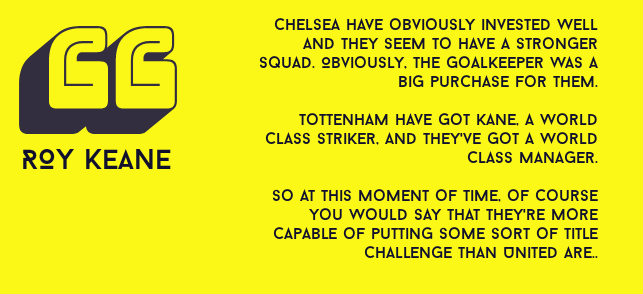 To get the nod from Keane – even with the 'at this moment in time' caveat – is not be treated lightly. It takes a lot to get this man to say anything positive about anything! Can Spurs win the league? Absolutely, but only if everyone keeps listening to Mourinho, and remains committed to the cause.