An interesting piece in The Athletic (£) today about the whole Toby Alderweireld situation. Devout Pochettino fans may wish to look away now. In a nutshell, Toby and our former gaffer fell out at some point back in 2017/2018, when a contract extension couldn't be hammered out. And things were never repaired.
It is said that Toby wanted "market rate" wages. The response from Pochettino?
Eccleshare says: "Pochettino took the Belgian's perceived stubbornness as a personal slight and was extremely upset at the situation."
The relationship then continued to deteriorate.
So, this would confirm the suspicion that this tiff was not for footballing reasons.
As if by magic, once Mourinho was confirmed, it took Toby just a few weeks to break an impasse that had lingered on for over a year.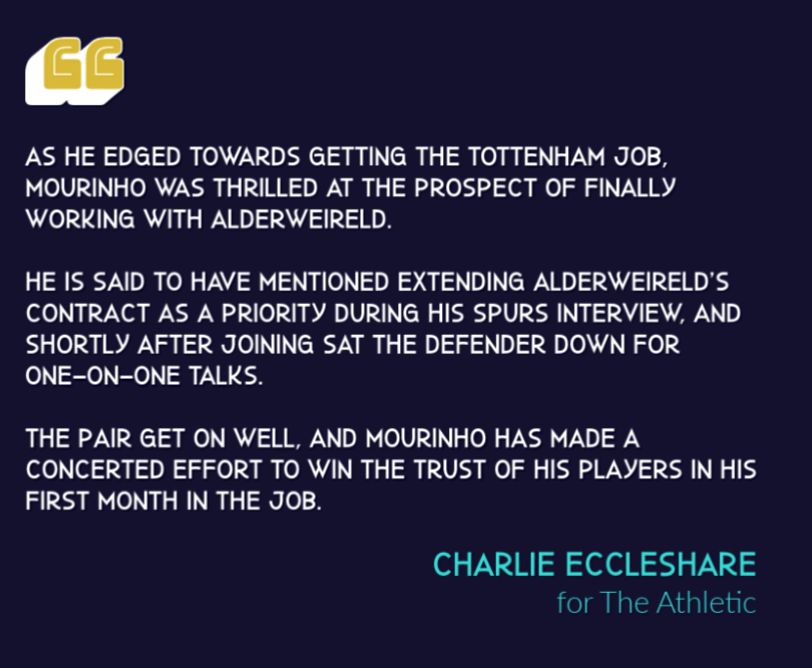 So did the breakdown exists solely between Toby and Mauricio, or was Levy also frustrated with the player? We are told not. Eccleshare adds:
"Thankfully for all parties involved, that was not the case — and chairman Daniel Levy and Alderweireld's representatives did not have a major falling out. So a deal was pretty straightforward to resurrect once it became clear under Mourinho that it suited all parties."
Worse yet, it would appear from this account, that Pochettino was not quite the people person as some made out.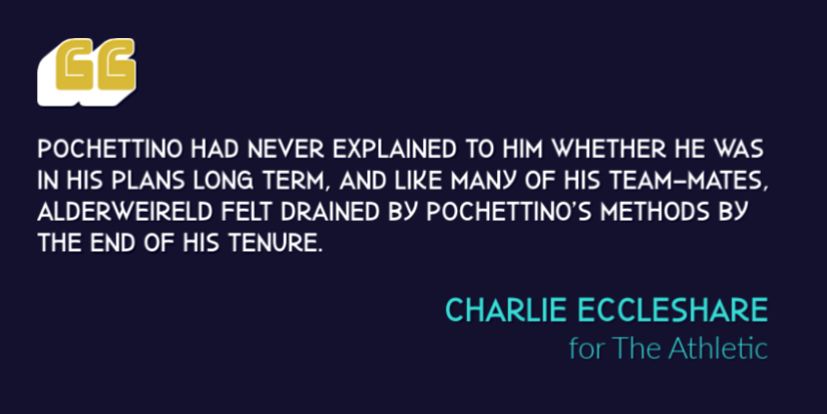 The new deal signed with Tottenham is said to be worth about £100,000 a week, approximately half the figure that was being bandied about when Toby was being ill thought of by Pochettino (and some fans) for refusing to sign.
Opinion After watching both parties for the last five years or so, I have no hesitation in believing every ounce of this report.
Pochettino did well at Tottenham, but he is a long way from being classed as a top coach, he simply doesn't have robust enough credentials.
Nothing personal, but until he proves himself with tangible results with perhaps a midrange side, then his ability and indeed him character remain in doubt.
Oh, and welcome home Toby.