The appointment of Jose Mourinho was undeniably a recovery move after a prolonged period of mediocrity at Tottenham.
25 points from our last 24 games was not something a blue chip club like Spurs could indulge indefinitely.
Spurs' away record this season in particular has been dire. The last win on the road for Mauricio was back in January 2019.
Given the colossal investment, and indeed, the clue in the name, English National Investment Company, it could be suggested that Jose was brought in to make sure ENIC get nothing less than top dollar for their biggest corporation.
That's certainly what talkSPORT's Alan Brazil feels. The former Spurs' player was quoted in the Daily Express yesterday as saying that THFC are now gearing up to sell.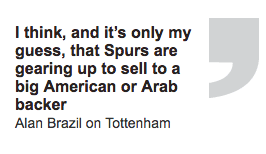 A source close to the club has told the Harry Hotspur blog that ENIC have no defined plans of selling in immediate future.
"There isn't a magic number right now, Daniel's objective to make Spurs a global brand hasn't changed. Poch will be missed on a personal level, but the business just moves on."
It's difficult to know how Spurs fans would take this news, since the dismissal of Poch has caused a very visible shudder on the various forums etc.
My view hasn't skipped a beat. ENIC must do what is best for the football team and the rest will follow.
Jose is the best for ANY football team.
As his CV demonstrates.
As Ben Shapiro says, "facts don't care about your feelings".