Fit (or not fit) to lace their boots, is am oft-used phrase when when comparing sportsmen, in particular footballers, during classic pub talk.
(Remember 'the pub?')
What is the goalkeeping equivalent? I'm going for fit (or not fit) to strap their gloves. Sounds odd now, but just you wait, it'll catch on.
Anyway, the point my incoherent ramblings are leading up to is that Nick Pope would not be fit to strap Hugo Lloris' gloves as Tottenham's No.1.
Jose Mourinho has a dilemma when it comes to Lloris. Can he wait another year to replace him while focussing on other squad improvements, or has upgrading the increasingly-unreliable Frenchman become a priority?
Spurs will no doubt be assessing the market to see who is available, and Football London understands that Burnley's Pope is one we're looking at.
And while the stats reflect favourably on the 27-year-old Englishman, they also show just how good Lloris has been for us over the years – less so recently, of course – and what a hard act the skipper will be to follow.
This graphic from Sky Sports is basically a 'goal difference' for goalkeepers; shots they are expected to save against shots they are not expected to save.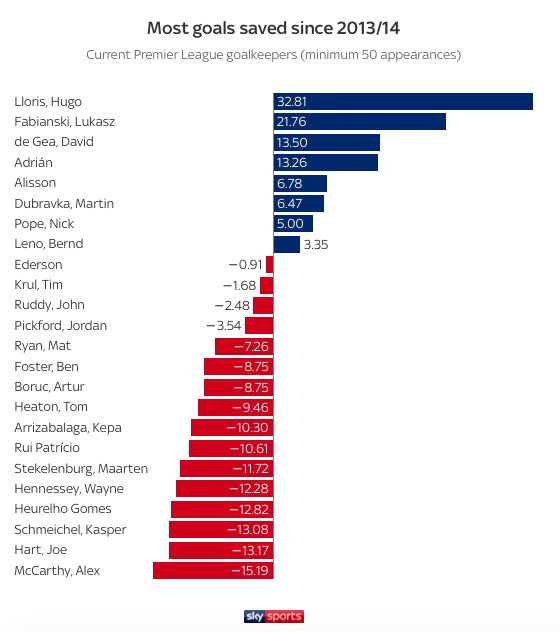 What all that red and blue means is that, since the start of 2013-14 season, Lloris has "conceded almost 33 fewer goals than would have been expected based on the quality of shots that he has faced." And as you can see that is quite considerably the best record of any goalkeeper during that period.
Pope comes in at +5, but has only played a fraction (64) of the Premier League games that the 33-year-old has (251). At his current rate, Pope would have a positive 'save difference' of 19.6 after the same amount of matches.
Even Alisson's numbers wouldn't stack up over a Premier League career as long as Hugo's, and the Liverpool stopper is the best in the world right now.
This graphic shows us two things, in my opinion:
We're probably looking for a goalkeeper who is better than Lloris now, but not at his peak.
We're probably looking outside England.
Any suggestions?