Those are words to send a chill down Daniel Levy's spine. A total and utter contempt for the ENIC business model, which focuses purely upon the ability to service the club's primary revenue streams.
Anyone that suspects that I do our valiant investors a disservice, need only be pointed at the dismissal of José Mourinho just days before a domestic cup final. The priority of Levy & Co. was revealed that day, for all to see. It was cheaper to manage the Portuguese's compensation in advance of the head-to-head with Manchester City than it was to let José risk winning.
Perhaps, Antonio Conte's track record might deliver another football experience here altogether, for Tottenham fans?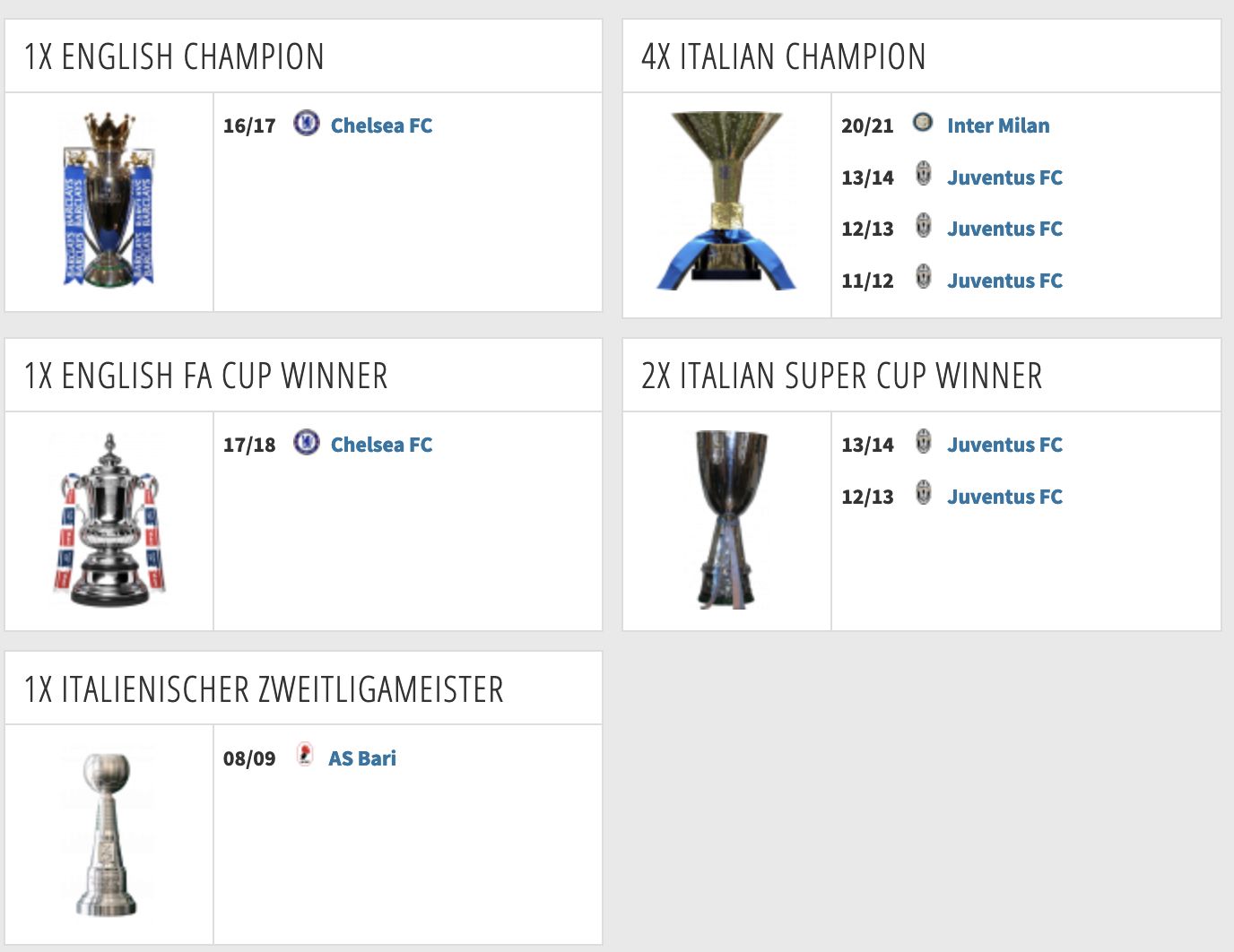 If we look at what the gaffer has won in his career to date, it has only been domestic honours, including 5 championships. With Chelsea, the Italian won the division in the 2016/17 season, then the FA Cup in the following 2017/18 term. That season, Conte only managed to finish 5th, which for that club at that stage was unacceptable – and another factor in Antonio's average term as a top-flight coach being just 1.16 years per club. Furthermore, Conte's modus operandi is to be remembered by fans as a winner. The fact that Daniel Levy thinks he knows better is, in the bigger scheme of things, a secondary issue to him personally.
The chances of Conte winning the Premier League whilst at Tottenham are not outstanding. His immediate opponents in the task are seasoned veterans. Whilst Tottenham has undoubtedly sought to strengthen in this window, it would be extremely ambitious to believe that we have somehow outgunned the likes of Manchester City, Liverpool, and the ever indefatigable Chelsea. Oh, were it so, but the reality is that we are still spending to address the issues that weren't fully addressed under Mauricio Pochettino's tenure.
Spurs are certainly shopping in a more discerning manner than perhaps we ever have done, as exhibited with the short to medium-term deals for Ivan Peresič and Clement Lenglet. Obviously, putting Djed Spence to one side, Cristian Romero looks to be an outstanding acquisition and Dejan Kulusevski an extremely promising one.
My gut feeling is that Antonio will not wish to be remembered as yet another manager that 'ended' his career in Haringey. As with Mourinho, these elite-level coaches operate in a space that others can only look up to. I fully expect Spurs to aim for the Champions League, but I also expect us to take a meaningful tilt at a trophy.