The COVID-19 pandemic caused havoc with all live sports, and the biggest, most popular competitions were certainly hit the hardest. Whilst a 'big' side like Tottenham was arguably more capable of weathering this kind of economic storm than say a lower league side, the losses were always potentially far greater. On food and beverages alone, THFC stood to be down £800,00 per staged live event that was cancelled. These kinds of losses from an elite level sports business simply cannot be ignored.
Losses are part and parcel of the bettor's cycle, that's a given, and so the good news is that Spurs are eminently placed to continue a run of winning form in the Premier League. Fans with an eye for value in the betting markets are quite unlikely to find a top-flight side to take advantage of such offers as Tottenham Hotspur. Most popular offers can be found at this page which updates daily https://www.freebets.co.uk/bookmakers/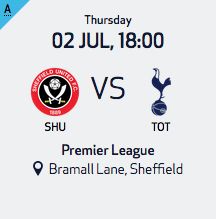 Sheffield United's form since the restart has been frankly diabolical.
Spurs win.
Our very next game is away for Sheffield United, who have been unrelentingly dull since the division's competition recommenced, having failed to win a single game since Premier League football came back. Spurs surely cannot be challenged here. This is quite a sure bet on Spurs also by the bookmakers themselves who are granting odds of almost 1 (19/20 on William Hill, Skybet and Ladbrokes) for Spurs to win.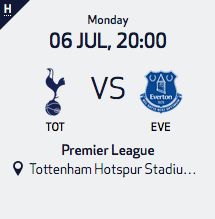 Everton's recent run has been extremely poor, to put it mildly.
Spurs win.
Everton's track record makes them a bad under most circumstances, 12th in the league for a good reason, is my view. Nothing suggests danger, after losses to Chelsea and Arsenal. Just one win in their last 6 games and that was against Norwich City who will be playing in the Championship next season. This is a Tottenham win. The recommendation is placing a combined bet on the previous game and this one, as the odds are close to 1 against Everton as well. 13/11 with SkySports, are enough for you to consider your winning shots.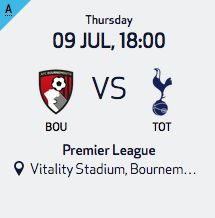 Bournemouth, another side that nobody in their right mind would bet upon.
Spurs win.
Bournemouth have flattered to deceive for far too long in the top flight and this is surely the end of that unconvincing deception. As with Norwich City and Aston Villa, the road to hell is paved with good intentions. Spurs cannot help but win. Here too the bookies are siding me. You are already getting the point by now. Try combined bets on sure games to increase your chances of winning some cash prizes.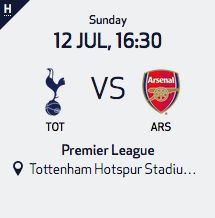 Allegedly this is Spurs' toughest game. How times have changed.
Spurs win.
In times of old, this fixture might have heralded some dreadful humiliation awaited whereby the Gunners won the league at Spurs, or qualified for Champions League football again. How times have changed. Arsenal sits unsteady in 9th spot at time of writing, with little to no nope of some miraculous improvement. Another win for Tottenham.