Well, I've been to one world fair, a picnic, and a rodeo, and that's the stupidest thing I ever heard come over a set of earphones. You sure you got today's codes?
Major T. J. "King" Kong
That wasn't very nice. So. Let's make like Heston Blumenthal's Wandering Dervish Rhubarb Crumble – and deconstruct the fakir. First of all, in a game that by and large lacked colossal individual errors, this was a match won by Sam Allardyce and his *believe it or don't* superior tactics.
Of course, André cannot be hung out to dry alone here. He was ably assisted by our first eleven. The most dysfunctional group of people ever seen since the "LOST" casting sessions. How can anyone seek to take anything away from what he achieved? But Sam arrived with a very predictable, very simple plan. The plan worked because his players grasped it and they implemented it.
So what was the strategy that derailed André's billion dollar babies? Strikerless, Sam played a false #9 and essentially put 6 men in midfield. They broke when our line was high enough and the space dictated they could. What was utterly brilliant about this plan, was that it took our bench over an hour to even attempt to combat it.
But that wasn't the best bit. Oh no. It wasn't until AVB started making changes that the West Ham goals began to whistle in. The goals simply served to underline that fact that we were woefully out of touch with what was going on. The substitutions were so damn late they utterly worthless. What was required was – at half time – to change our shape and correct the patently flawed starting line up.
The humiliation was made complete as Spurs' home crowd reaffirmed their crown as a crowd that only sings when it's winning. Mind you, there were probably so many actual ST holders absent that's an unfair comment. Most of them had probably flogged their seats at an astronomical profit to "anyone" that Stub Hub sold them on to.
Let's whistle through the stars of the show.

Hugo must be wondering this morning if yesterday actually happened.
In fact, his bewilderment probably predates that fiasco and he's only now trying to factor in how he left France where he was widely respected, to get involved in a futile game of musical chairs with a pensioner. Oh, and to have a back four that looks like Jan Vertonghen and 3 afterthoughts waiting for a bus.

Come January Michael Dawson needs to spend more time getting to know Brad. His style of play is not only outdated, but he isn't even delivering on the basics. I was never really any good at computer games. I'm not joking. I had the first Grand Theft Auto on a Playstation thing and my idea of a good game was driving around in a leisurely fashion, occasionally knocking over a dustbin. I don't have that "gamer" gene.
Watching Dawson "in action" is like watching someone as crap as me play FIFA. Lots of arms and flailing knees from players sliding in about 8ft away from where they might do something that was relevant.
We were lucky to get him to renew his contracty. The news broke yesterday teatime that Gerry Cottle was very close to signing him.

Jan didn't come out of this well. It is has emerged as a character trait in old Jan that when things go a bit rubbish, he appears to take the view that he resents working with amateurs. Whilst you can't blame him, it isn't an attitude that aids anyone.
That said, I'd be pretty peeved if I was expected to mop up the collective "nothingness" of the team mates in front of him.

Kyle Naughton is Michael Dawson Lite™. Not interested if he's being played out of position. Completely disinterested in this, which has become a whopping lie masqueraded as an excuse.
Yesterday wasn't a one off where he had to play as "rush goalie", he's technically suspect, positionally inept and his claim to fame after virtually every game is that he didn't do anything all that bad. Another one that we don't need to see unless lots of other people are injured after the January window closes.

Bonzo's contribution to proceedings was to soldier on despite suffering from some class of niggle/injury to "his side" in the warm up. His miserable 78% pass completion rate combined with a performance that lacked anything of note made for pointless performance that saw him become gradually even less effective as time went on.
His Sqauwka performance chart tells the grim tale better than any words.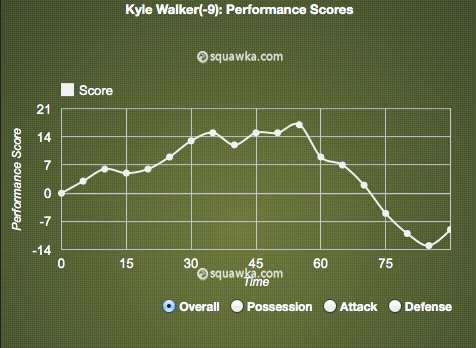 Dembele then. I'm getting bored seeing him slated. I don't knock Ballet or Chekhov. I say outright, I don't understand it. I wish the significant element of our support would just admit they're too thick to get what he does. If you think I'm being rude, do bear in mind, there still exists a hardcore who still don't "get" how Carrick has carved out a career or why Real Madrid were so keen to snap up Modric.
Moussa's pass completion rate was 90% and when the going got tough, Moussa kept going. Here's his chart.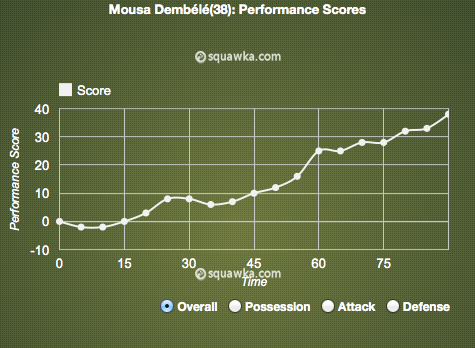 Paulinho simply wasn't up to scratch here. He didn't look remotely worth his fee. He lacked composure and he lacked that Brazilian touch that was desperately required to shake a solution from what was a tedious but solvable midfield puzzle.
He ought to have been pivotal. He wasn't.

Oh dear. Eriksen. The man that had hardened beer drinkers and hell raisers all going bonkers, singing his name to Black Lace's hit in a You Tube video. Sadly he's another one who isn't looking anywhere near worth what we paid for him.
All the guffawing over what great value he perhaps would be better placed at the end of the season, opposed to after a handful of games.

Here's a curiosity. Andros Townsend was the man of the match and is rather suddenly looking to be genuinely worth even more than the cheap praise that was heaped on him – before – he got his act together.
No, it wasn't a faultless showing, but he did keep on keeping on, and when he got the ball, one at least got a flicker of optimism about proceedings. Did he achieve much? Probably not, but he certainly tried. More please.

Siggy was actually awful. A 65% pass completion rate simply isn't acceptable. Those are "drop ball" odds. And against West flippin' Ham, not some footballing behemoth.
I can't even be bothered to delve in to my memory cells of the game to try and muster analysis for him. It isn't worth it. Here's his all too miserable chart.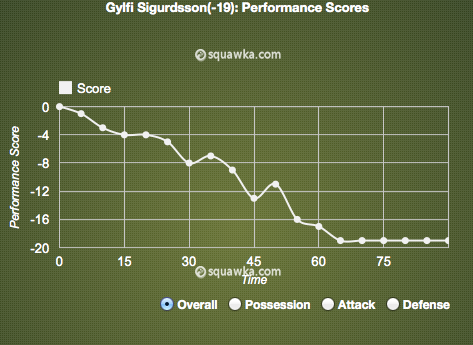 Defoe's selection made me wince. The chanting of his name by our hardcore retards made me want to turn the telly off. His performance was the same as it ever was.
I can barely convey just how much I never want to see him fielded in a Premier League game for us ever again. I'm all blogged out on him. His "fans" are an utterly mindless, unimaginative gang. Waving stats to support his magnificence earned like a drunk uses a lamp post. For support, rather than illumination. Waste. Of. A. Shirt.
[divider]
Who said: "Well, after this I should think nothing of falling down stairs."?
a] AVB
b] Laura Ashley
c] Alice
[divider]
So where do we go from here? Well, AVB needs to take this as yet another huge indicator that he cannot faff about with substitutions. He also needs to urgently admit that Defoe is indeed a flat track bully and nothing more. He never will be anymore. It's mind numbing that a desperately limited, endlessly offside, ball hogger with a market worth of 50p gets the nod over a bloke worth €30m.
A child could have told you what Sam was going to do. Yet it took our bench took over an hour before the penny eventually dropped. Depressing isn't in it.
[divider]