There's clearly a fair amount of turbulence around the club at present, and I have made the case repeatedly over time that one massive area of concern is that of the continuity of management at Tottenham. By that, I refer to the business as a whole, beyond the first team.
An interesting tweet emerged yesterday from the father of an Academy player at Spurs, and it is not the first time the dad has raised his head above the parapet on social media, as the Belfast Telegraph noted in October of last year.
Sunday's post stank of frustration, in respect of what was a terribly bland bench against Aston Villa, really lacking in attacking bite.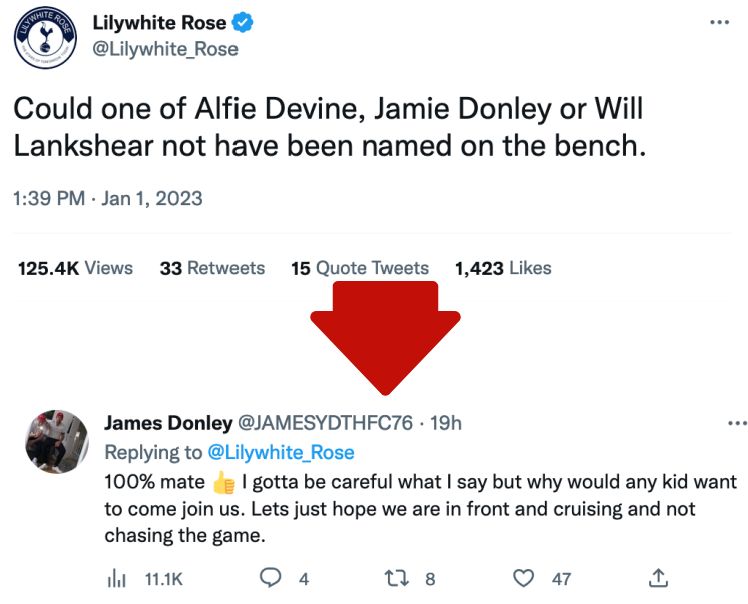 Replying to a post by Lilywhite Rose, who questioned why some of the forward-lying youth players could not be involved, Janie's dad didn't pull any punches.
"I gotta be careful what I say, but why would any kid want to come [sic] join us", is pretty damning stuff and reflects perhaps a lack of belief in the way the Academy at Spurs is handled. Certainly, the youngsters have not been performing well recently, and this might be a reasonable enough explanation as to why Conte was reticent to feature any of them in a Premier League clash.
Spurs are now out of the top 4, two points off Manchester United, who thankfully have a goal difference even worse than our own. Sure, there is a way back, but it looks increasingly complicated. Yesterday, some fans chanted, Daniel Levy, get out of our club.